Chamber News

Apple Dumpling Festival 5K
September 26, 2016
Saturday Oct. 22 at 8 AM ~ Apple Dumpling Festival 5K. Downtown Stuart. Registration starts at 7 AM, Race at 8 AM. Come run through downtown Stuart and long the Mayo River Rail Trail. Cost is $20 before 9/30, $25 after 10/1 until race day. For registration email racedrba@yahoo.com, or rebajksn@aol.com, phone 540-570-3511. Stay for after the run for the Town of Stuart's Apple Dumpling Festival
Tuition Discounts for Workforce Training Programs
September 22, 2016
The new Workforce Credential Grant (WCG) will help pay tuition costs for select workforce training programs for Virginia residents. Students only pay 30% of the total cost.
September 16, 2016
"How can I best promote my business?" That is one of the questions that I hear the most often. However, the Chamber of Commerce offers one of the easiest and most affordable ways to promote your business through our Corporate Gold Membership. . . . read more
Upcoming Events
Oct 1-2: Civil War Encampment & Reenactment - Annual
Laurel Hill - Living history at Laurel Hill, the birthplace of Major General J.E.B. Stuart, near Ararat, Virginia. Don't miss one of the highest-quality re-enactment events in the world! The Blue Ridge Mountains will ring again with the clash of sabers, the thunder of the big guns, and the battle cries of the bloodiest war ever fought! Food vendors, period music, Black Rose Memorial service, women's fashion show, sutlers, period camp sites and more.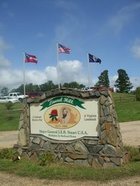 Ararat Hwy. - Jeb Stuart Birthplace Trust announces the 25th Annual Civil War Encampment & Living History Weekend on October 1st and 2nd, at the Laurel Hill Birthplace of Major General J.E.B. Stuart, CSA. . . . learn more
Chateau Morrisette Winery - 1 p.m. – 4 p.m. . . . learn more
| | | |
| --- | --- | --- |
| | | Chamber Event |